How to Convert MP4 to GIF
Why Create Animated GIF from MP4
GIF, short for the Graphic Interchange Format, is a bitmap image format that is widespread used for its wide support and portability. There are many reasons that you tend to make some GIF images. Maybe you like some funny parts of a movie and want to make these parts into GIFs so that they can share with your friends and let them belly laugh. Or perhaps, you just want to use a cool GIF as the avatar image such as MySpace profile image so as to attract eyes. Meanwhile, most forums support GIF as the profile image. All in all, no matter which reason you'd like to choose, the information below will help you a lot.
How to Choose a Right Video to GIF Converter
Actually, it's so easy to find a video to GIF converter. You'll get lots of results online. Meanwhile, there are also many free online GIF converters. But among them, which one is better. As we know, the free online GIF converters only support to convert a whole video file to GIF. If you have a MP4 movie and just tend to convert one part into GIF. The free ones can't do such job anymore. And with a free online GIF converter, your video files have to be smaller than 100MB in size.
So I high recommend you with Video to GIF Converter, which easily helps you convert almost all video formats like MP4, MOV, AVI, etc to animated GIF with excellent quality. And it will use less memory and CPU, and work fast.

How to Convert MP4 to GIF with High quality and Fast Speed
The solution is as follows. Hope this tutorial can really help you how to convert MP4 to GIF.
Step 1 – Import a MP4 File to the MP4 to GIF Maker
First you need to install the MP4 to GIF Maker to your computer and then open it.
Press "Load Video" and then you'll see the image below which contains all the information you need to know.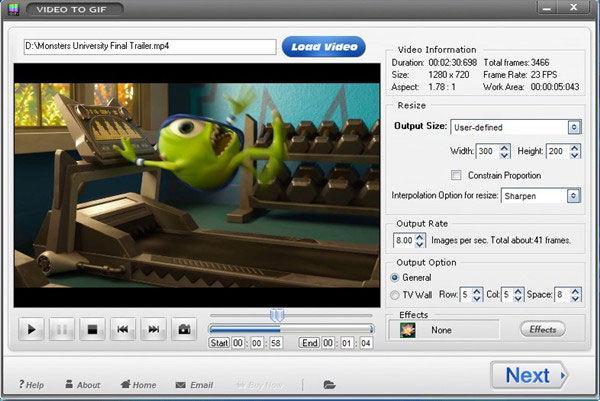 Note: Do you see the detailed information of this video file like its size, total frames, frame rate, etc? The whole information is very useful for your later settings.
Step 2 – Make Customizable Settings with Ease
At this step, you can choose which part should be converted into GIF by dragging the time-line bar. You can accurately set the starting time and ending time.
And then resize the GIF size. If you want to keep the original size and don't mind if it takes too much memory, you could skip this. (Optional)
Or if you tend to make this GIF image more unique, you are supported to apply some special effects like Black and White, Blur, Brighten, Red and more. (Optional)
Step 3 – Start the Conversion
Press "Next" and you'll see another interface. Here with the wonderful MP4 to GIF maker, you are able to know the total frames of this GIF image. Then you can increase or decrease the total frames as you like as well as set the speed to make your GIF more excellent.
Choose an output folder and Hit "Run".
Converting MP4 to GIF is so simple. From now on, you'll have lots of your own GIF images.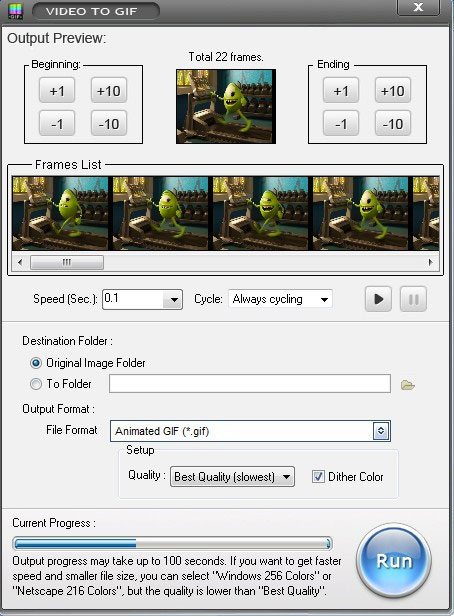 Sample of GIF Animation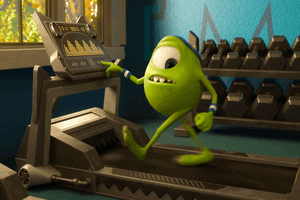 You may want to know more about This MP4 to GIF Converter
Video to GIF Converter can not only help you to convert MP4 to GIF, but also convert MOV to GIF and convert any other video format to other commonly used image files. The Video formats supported are AVI, MPEG, WMV, MKV, VOB, RMVB, etc. And the image files supported include JPG, BMP, TGA, PNG, TIF, etc. It provides users with ultrafast conversion speed and high quality.
Related Software
Photo Watermark Software is considered by users as an alternative to Photoshop. It provides special solution to watermark image to protect your photo copyright. You can add text to picture or add picture to photo or resize photos in batch. Watermarking animated GIF and batch converting images is also available.
Previous: How to Create a GIF from Any Video Easily
Next: How to Convert YouTube Video to GIF