Convert WMV to GIF without Annoying Limits Easily and Quickly
The fastest way to create GIF nimation
Do you collect many WMV video files and want to convert these WMV videos to animated GIFs? In that way, you can post some funny or hilarious parts of a WMV video to forums, your blog or your twitter, use animated GIF as avatar as well as share your DIY gifs with your friends. If you love to surf the web, you'll find that it's full of interesting GIFs. Have you thought about making your own ones? If it's so, this post is good for you. How to do WMV to GIF conversion without quality loss and any annoying limits such as limits on WMV video size? Follow the simple guide below.
Converting WMV file to GIF or any video format to GIF is so much simpler. From now on, you can use the WMV to GIF Converter to do this job!
The WMV to GIF converter is capable of converting any video format like WMV, AVI, MKV, MOV and more to GIF with high original quality. Unlike other related converters, it has no limit on video file size and also doesn't need your email address. You can accurately and flexibly control output video length instead of converting the whole file to GIF.

How to Convert WMV to GIF Step by Step
Preparation: Make sure you've downloaded the program successfully and installed it on your computer.
Step 1: Add WMV File
Launch the converter and then click "Load Video" to select a WMV file.

Note: When you import the WMV video to the program, you are able to see some important info, such as time duration, total frames, resolution, frame rate and aspect ratio.
Step 2: Necessary Settings
Control the length of the converted part by dragging the time-line bar under the preview window.
Resize the output file. You can change its width and check "Constrain Proportion" so that the height will be set automatically. (Optional)
Set the output rate. The default is 1.00.When you increase the output rate, accordingly the amount of totally frames will rise. (Optional)
Apply cool effects to touch up the output GIF image. (Optional)
Hit the "Next" button.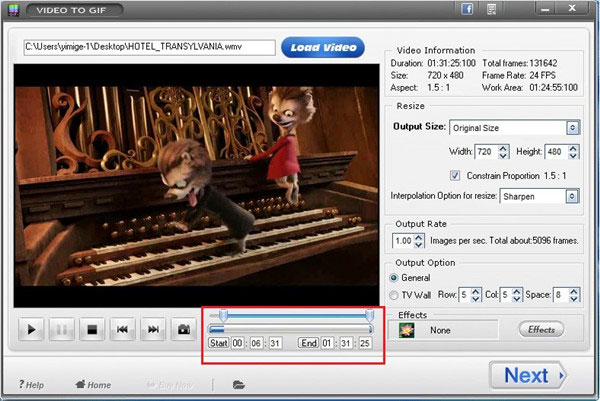 Step 3: Preview the Output Effect and Start to Convert WMV File to GIF
At this step, you can see the output preview interface. And if you aren't quite satisfied with the previous settings, here you can fine-tune.
Select an output folder and choose Animated GIF (*.gif) as output format.
Click the big blue "Run" button to start the WMV-to-GIF converting task.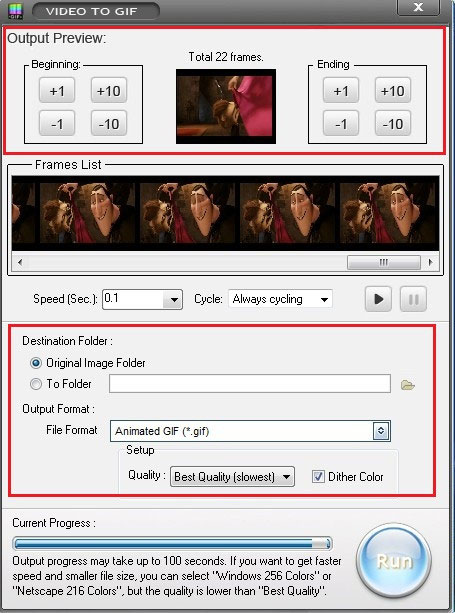 Everything will be accomplished in the shortest time. Just enjoy your images with others.
Related Articles
How to Add Text to GIF in an Easier Way?
Have you considered putting some meaningful words on your GIF image to make it more remarkable? This is a simple guide.
How to Convert YouTube to GIF in a Few Clicks?
Want to convert YouTube to GIF? This article is to tell you how to easily convert YouTube video to GIF in the most practical way.
Previous: Turn Video into GIF
Next: How to Create a GIF from Any Video Easily